In just 3.5 hours, BECOME A MASTER COMMUNICATOR.
Set the foundation for confident speaking, concise writing and excellent listening.
100%
On-Demand
Self-paced course that can be finished in just 3.5 hours.
Language Options
Available in Hindi, English or both. Choose your own language preference.
Live
Sessions

6 Monthly Live Q&A sessions by Ankur Warikoo to resolve your queries.
Lifetime
Access
Access to unlimited replays and future upgrades in the course content.
14-Day Refund Policy
No-questions-asked refund within 14-days of purchase.
Do you struggle to speak in front of your friends, team members or an audience?
Do you feel your weak grasp over the English language is hindering your growth?
Are you distracted or absent-minded when listening to others?
Do you struggle in writing documents or get scared before sending emails?
Do you wish to be a master communicator?
If your answer to any of the above questions is "YES

", then this course is designed exclusively for you!
What's in the course?
Myths Surrounding Communication
Do I need to be good at English to be an effective communicator? Is effective communication a one-way street? Learn more about some myths that hold you from being an effective communicator.
Components of Effective Communication
What skills do you need to learn and grow, to be an effective communicator? What are the components of successful communication?
Can you be a pro at speaking, even if English is not your first language? How can you be a confident speaker during team meetings, college presentations, with friends or while on stage? How can you be efficient at both 1:1 and 1:many conversations?
Emails, presentations, documents, posts - so many tasks in the day, requiring you to express your thoughts concisely and in a timely fashion.
How do you become a concise writer?
If you do not know how to listen, you do not know how to communicate. Communication isn't always limited to words. Are there any additional cues you need to look out for, verbal and physical?



3 exercises to help you get started on your speaking, writing and listening skills. Students who have gone through these exercises have shown DRAMATIC results in just 30 days!
Bonus Content
How can you use writing emails as a powerful tool to generate opportunities for you? Learn the art of cold emailing.



The course is for you if...
English is not your first language.
You struggle with speaking confidently.
Writing emails or documents scares you.
You are a distracted listener.
You do not know how to send emails to strangers, asking for jobs or help.
You wish to be an effective communicator.
This course will help you...
Understand the basics of effective communication skills.
Become a confident speaker, irrespective of your command of English.
Listen effectively while in a conversation.
Send cold emails to create opportunities.
Write effective documents, presentations, and emails.
Practice the learnings with the help of exercises.
Meet the Instructor
Ankur Warikoo is an entrepreneur, teacher, content creator, public speaker and mentor based out of India.
With a following of 10Mn+ on various social media platforms, Ankur owes most of his success in life to his effective communication abilities.
Belonging to a middle class family in India, English was not his first language. He learnt it in schools and till date fumbles with complex English words.
His first stage experience, at the age of 12 was so bad and embarrassing that he swore never to set foot on stage again! But then something happened in Class 11th that changed his life!
Today, he gets invited to top colleges and companies across the world to address audiences in hundreds and thousands. From that scared speaker, warikoo today loves the stage.
He is a bestselling author of 2 books, and has been writing a daily blog since 2005. And he considers listening as his superpower. When with him, you will feel that you are the center of his universe!
What worked for him is what he brings to you, for the first time ever.
Simple concepts matched with tough exercises, that he is convinced will help you become a masterful communicator.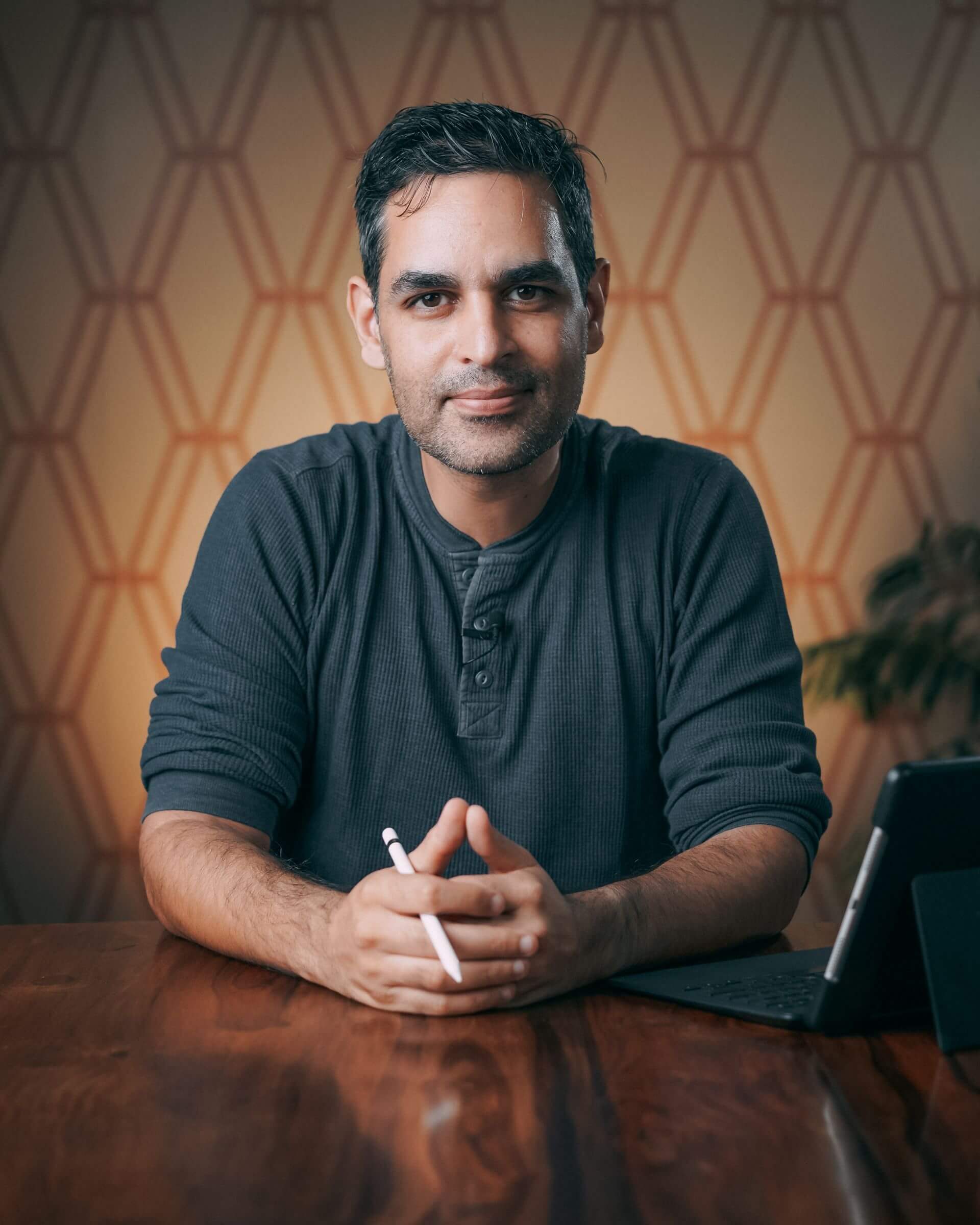 Entrepreneur, Teacher, Content Creator,
Public Speaker and Mentor
Ankur Warikoo
warikoo is an Internet Entrepreneur based out of India and is one of India's top content creators. He is also a bestselling author and conducts courses online as an educator. His aim through his content is to make sure all the choices you make in life come from a point of awareness and not ignorance.​
From our students...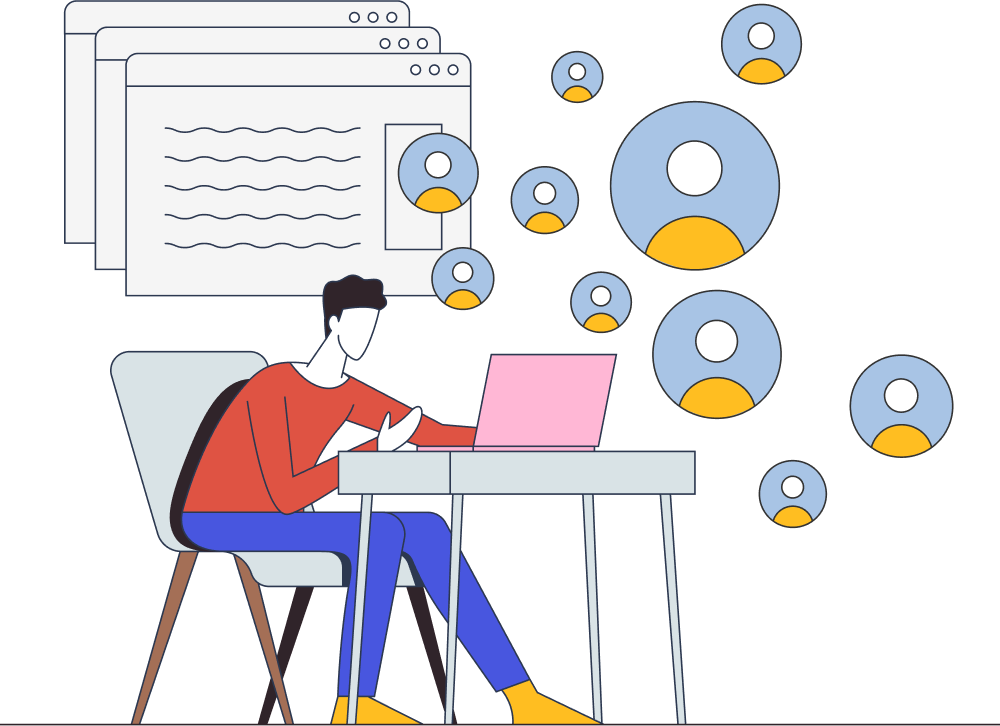 I learned the real importance of communication skill, and how to use that skill in a better way. I have learned that this life is just not meant to live for one self only but whenever we get a chance to beautify someone else's world we should move towards that.
It was a wonderful training session with Ankur Warikoo on effective communication. I have learnt more than what I was supposed to. It's really amazing to hear your life lessons and the decisions you made in your life.

It was lovely to hear from you during this course Ankur, you really have the power to impress through story telling, would love to hear more from you about the art of story telling. My takeaway to follow will be to learn story telling, using every opportunity to communicate better.
I would definitely suggest taking the course. I have already told my friends about it and asked them to take it.
It is a very well structured course and will teach you everything you need to learn to master the art of communication. And the best part is it's very low priced.
It wasn't only about the language, vocabulary, fluency or storytelling as people speak of it. Even though we've heard of how important it is to be a good story teller, the part in this course on story telling and communication was more about how to tell our story in alignment with knowing audience. Because it is going to decide which story, tone and the feel of it.
One should definitely enroll this course! It's worth it, trust me!
I will highly recommend it for people who really want to learn and gain confidence on how to communicate effectively. Effective communication is a perfect and an awesome course you can enroll at a very cheap and affordable price!
Standard Plan
₹ 649
Pre-recorded Video Lectures

PDF Notes and Exercises

Certificate of Completion
Premium Plan
₹ 749
Pre-recorded Video Lectures

PDF Notes and Exercises

Certificate of Completion

Six Live Group Sessions with Ankur Warikoo

Access to Bonus Content on Cold Emailing

Complete Access to future Course Upgrades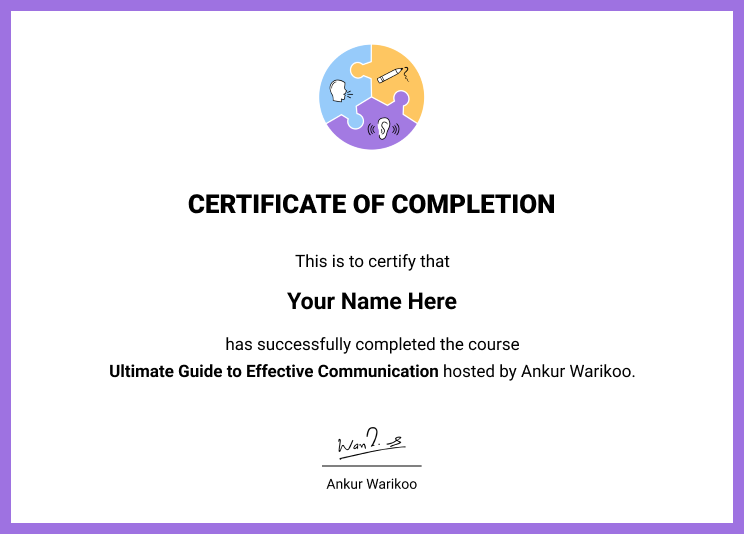 Share your certificate on social media and tag Ankur Warikoo. You can also share it in the Certifications section of your LinkedIn profile, on printed resumes, CVs, or other documents.
Certificate Included

Learn on your own schedule through pre-recorded content
Get your questions answered in Live Q&A Sessions
Access to bonus content

PDF notes for quick summary
Practical exercises and assignments
Available in both English & Hindi
Free upgrades to the course
Unlimited lifetime access to the course
Shareable certificate upon completion
Frequently Asked Questions
How long will it take to get access of the course?
Your credentials to access the course will be delivered to your inbox within 5-10 minutes of your purchase. Please check your promotions/updates tab and spam folder as well. It will be sent from the mail address -
[email protected]
.
Is the course in Hindi or in English?
The course is available in both the languages - Hindi and English. You get the option to choose the language on the payment page.
Do the course come with any live interaction?
Yes, the premium version of this course consists of live group Q&A sessions with Ankur Warikoo.
Will I get a certificate of completion?
Yes a certificate of completion is available in the Standard and Premium version of the course.
Is there a group that I will join, after purchasing the course?
Yes. You will join a community of like-minded enthusiasts on WebVeda wherein you can share your doubts and connect with more people.
Can I cancel my course purchase if I don't like it? Will I get a refund?
Yes! You can cancel your course within 14 days of purchase if you don't like it. You can email us me at
[email protected]
& I'll cancel and refund your money within hours. No awkward questions asked!
Subscribe to our newsletter now!
Get weekly updates on live streams, news and more right in your mailbox.
Subscribe to our newsletter now!
Get weekly updates on live streams, news and more right in your mailbox.