The Definitive Program to become a YouTuber


A comprehensive, actionable guide to take you to
100k subscribers on YouTube - via a process that works!
By Ankur Warikoo and his core YouTube Team
Learn from Warikoo and Team


Direct access to warikoo and his core YouTube team and all that they know about You.
12 weeks of Learning



Learn EVERYTHING in 12 weeks - from ideation, scripting, post-production, to data.
Cohort-based learning



Learn with other fellow YouTubers - through a combination of live and pre-recorded sessions.
HinglisH



You'll be able to understand even if English is not your first language.
About The Course

You love YouTube videos. And now you're considering starting your own YouTube channel. Or maybe you already have one.
This cohort-based course will give you everything that goes into running and growing a YouTube channel, starting from:
Picking your niche as a content creator
Scripting and designing your video, and NEVER running out of ideas
Learning the secrets of consistency
Growing your channel WITHOUT paid ads
Mastering data and using it to grow your channel
ALL of this, while understanding
YouTube as a science
.
Not virality. Not luck.
Pure.
Science.
You put in the right inputs, and you INVARIABLY will get the right outputs!
"How to YouTube" is for you, if:

📌 You want to create content on YouTube.
📌 You are just starting out on your YouTube journey - but are confused where to begin!
📌 You have no idea how to figure out your niche as a content creator.
📌 You struggle to generate content ideas or be consistent with your videos.
📌 You want to reach out to a wider audience than your current base.
📌 Your subscribers are not growing!
📌 The YouTube algorithm acts like an unwanted enemy, instead of your best friend.
📌 You want to make money through YouTube, and truly live a laptop lifestyle.
📌 You want to run a YouTube channel as a side hustle or use it as a source of additional income.
What's in the 12 week course?
Starting December 2021, this 12-week course comes with EVERYTHING about YouTube, covering:
Understand - why YouTube as a platform
37 million+ channels, 800 million+ videos, 3 billion+ searches per month - why should YouTube even be your platform of choice as a creator?
Getting Started with YouTube
What are the skills you need? How to build those skills? are they tied to your success as a YouTuber?
Creating a Content Engine
How do the best creators produce content consistently? Learn the secrets of high-quality, well-researched and steadily consistent videos. And do that seamlessly, to your channel!
Post-producing & Editing your videos
What are the must-haves for every piece of your content? Learn the secrets of post-production and editing that your viewers cannot not fall in love with!
Think of your video as a product. How to market your video? How to make sure your viewers spend their time on it? What do you need to do and not need to do, to ensure your video gets shared more often?
Understand the secrets of personal branding
Understand the secrets of branding - specific to YOUR own channel. And tools that help you to get there faster
Understanding the data that YouTube provides

Is YouTube all-luck or science? What all do you need to track on YouTube studio in order to measure your growth and subscribers?
Tracking your performance
CTR, RPM, AVD - too much jargon, not enough time! Which metrics should you actually be paying attention to, and which are white noise?
Warikoo reached 1 Million subscribers in 18 months after being stuck on 7,000 for the past 4 years. What changed? What didn't? And the power of best practices that ensure this growth on your channel.
How to use YouTube as an income source
Some proven, some out of the box ways you can earn money via YouTube. And make it your full-time money-generating machinery.
Why should you take this course?
This course will help you...

✅ Figure out your niche as a content creator.
✅ Create content exclusively for YouTube.
✅ Best practices to grow your subscribers on YouTube.
✅ Learn tested and proven practices to experiment with your content style and brand.
✅ Understand data and have fun with it - even if you HATE math. And derive insights for further videos.
✅ Develop your content strategy.
✅ Edit videos that make your channel look like pro.
✅ Make your video easily discoverable for the YouTube algorithm.
✅ Leverage YouTube as a source of income - passive as well as full-time.
✅ Come up with a short-term and long-term content strategy. Methodically plan for your brand on YouTube.
Meet your Instructors
Meet the team that made the Warikoo YouTube channel go from 7,000 in March 2020 to 1 Million in October 2021
Ankur Warikoo

Ankur has been creating content on YouTube for the past 4 years, and grew from 7,000 to 1 Million in 18 months. Beyond YouTube, he has a following of ~4 Million across all social media channels.
ANKUR WARIKOO

Ankur Warikoo has been creating content on YouTube for the past 4 years, and grew from 7,000 to 1 Million in 18 months, with a following of ~4 Million across all social media channels

Gitanjali Jaggi - YouTube Team Lead

Based out of New Delhi, Gitanjali leads the Warikoo YouTube team as well as content distribution for the brand's YouTube channel.
Shaurya Shikhar - Chief Data Analyst

A management student hailing from Patna, Shaurya studies the data that YouTube provides which is used it to grow the brand further.
Supriya Bhandari - Chief Graphic Designer
Based out of Jodhpur, Supriya is responsible for the visual identity of the channel, creates the thumbnails and the notes accompanying the videos.
Aditya Vora - Chief Video Editor

Aditya is from Pune, and is the man behind the entire editing and post-production for every single video.
Nishtha Gehija - content lead

Nishtha is from Kota and writes the YouTube descriptions plus proofreads the content before it goes live.
Shivam Gupta - Audio Engineer

Shivam is a Music Producer and Audio Engineer from Kolkata, responsible for the audio quality standards of the videos.
Frequently asked questions
Can I apply even if I don't have a YouTube channel?
Yes you can. If you know YouTube is the place where you want to create content and your brand, yes you can! The program teaches you everything from scratch to being a star at it.
How much does the program cost?
The program costs Rs. 24,999, however, for the founding batch everybody will get the 100% scholarship.
Is this going to be a live or pre-recorded course?
The course is a combination of pre-recorded content and live classes. Each live class will have some pre-recorded content and associated pre-work as well. All the content will later be available for you to access. So, in case you happen to miss out on a Live session, you can catch up on it later.
When and where will the live classes be hosted?
The live classes will be hosted via Zoom on Wednesdays. The exact timings will be shared with you once the cohort is finalised.
I am not fluent in English. Can I sign up for the course?
The course language is a combination of both Hindi and English. You can sign up even though English is not your first language. The pre-recorded content is primarily in Hindi, with English subtitles.
Can only individual creators apply?
Both individuals or a group/team of a creator working together can apply. The perks will be limited to one per channel.
I am not from India. Can I also apply to the course?
The course will comprise of pre-recorded content in Hindi and English, along with English subtitles. The live classes will be in English but since the batch will be dominated by Indians, there may be some discussions or banter in Hindi. We will accommodate English subtitling for all recorded sessions as well. If language is not a constraint for you, we would love to invite your application to the cohort.
Applications Open - 6 November 2021
Applications Close - 18 November 2021
Enrollment Communications - 28 November 2021
Cohort Community Setup - 30 November 2021
Introductory Session - 1 December 2021
What is the evaluation criteria?
The candidates will solely be evaluated on the basis of their form responses. The form aims to capture their enthusiasm, dedication and commitment towards getting started or generating an impact via their YouTube journey. Presentation or ideation skills will also be considered.
I have filled up the application form. What should be my next steps?
Sit back and relax! An automated email will be sent to you once we receive your application.
We will be reaching out to the selected applicants by 25 November 2021.
Does the course come with a certificate of completion?
The participants will be receiving a Certificate of completion in a special Graduation Ceremony, organised towards the end of the course. You will also receive a custom Play button whenever you hit 10,000 subscribers on your channel
How do I clear my doubts during the program, if I have any?
You will be added to a creator community of the cohort (on WhatsApp) that you are a part of. We will also be hosting regular sessions with all the instructors to make sure all your queries are answered.
Who can I reach out to, for any additional questions?

Oops - looks like you missed it!
The applications for Cohort - 1 of How to YouTube are now closed. Please share your email address with us for updates on upcoming cohorts.
A secret from inside the vault
It is March 2020.

I had just stepped into content creation.

Built a team to scale up my game of content.

We had a process in place. We were putting in the inputs daily. We were learning and growing at a smooth pace over time.

However, if there was one platform that could give me sleepless nights, it was YouTube.

I just wasn't able to understand what were the metrics behind YouTube growth.
How can I reach out to more people sharing with them the wisdom to make choices from a point of awareness?
Was there a way to make sure people in their 20s didn't repeat the mistakes that I did?

So I decided to do something totally different.
I've been a Physics student, who is obsessed with process.

What if I and my YouTube team came up with a process that invariably gives us the growth we want?

Over the last 1 year, this practice has worked for us in more ways than we could have imagined.
Oh yes, last month, we hit our first Million on YouTube through this process.

The happy faces of virtual celebration tell it all!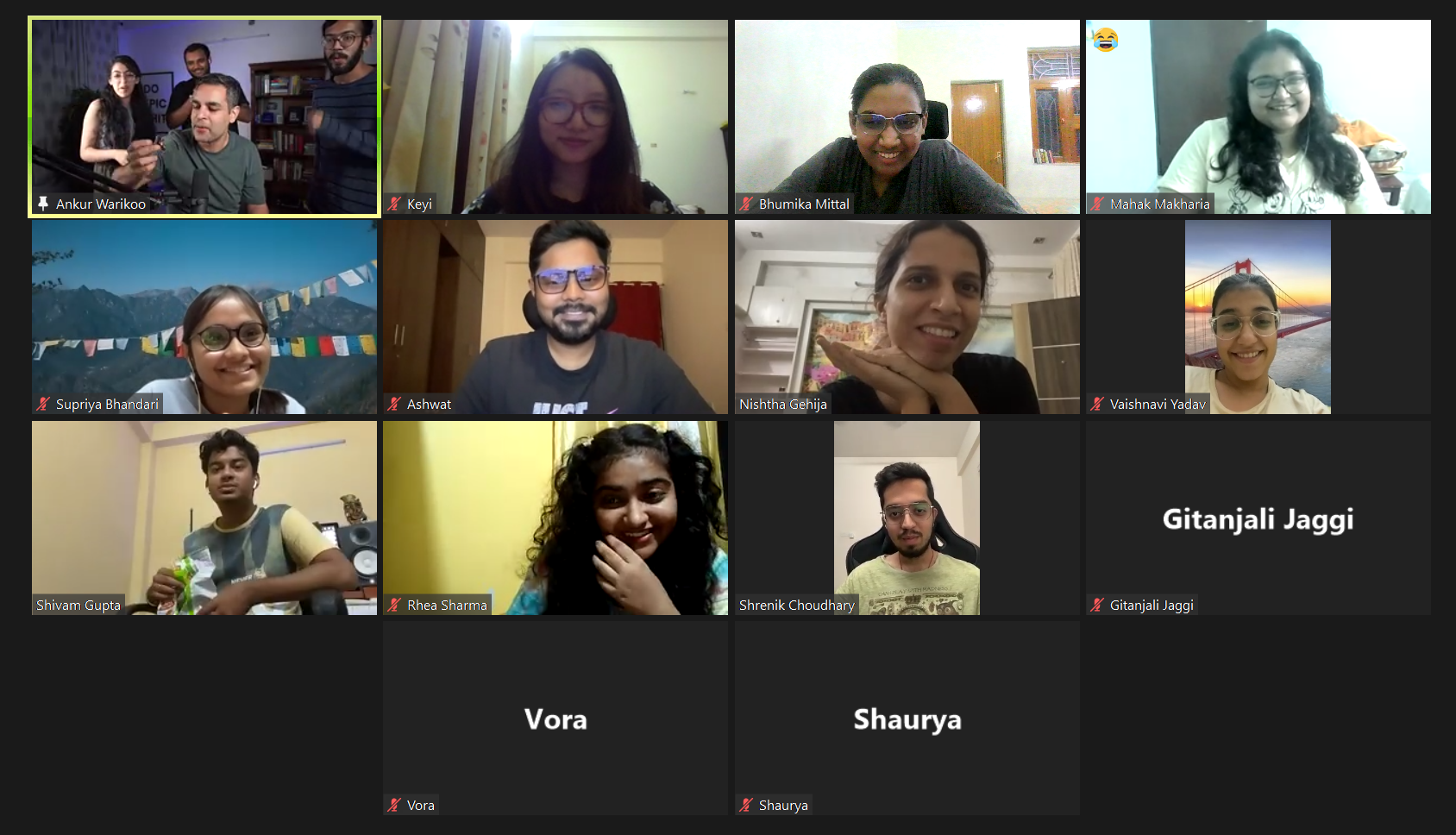 The team was charged up.

They literally jumped around and hugged each other for their efforts.

And the best part, non-YouTube team members also joined them in this impromptu celebration!

How far I had come since then.

For the longest time, I didn't know how to grow on YouTube.

But one thing that I did get right - one thing that made everything else possible - was a crazy obsession behind the right process that would make all our results inevitable.

Following a process isn't easy.

Following a process doesn't look cool on social media stories.

Following a process even when you don't feel like it is the hardest thing to do. (Or perhaps the easiest.)

But if you are committed to asking the right question, the right answer just shows up.

Back to March 2020. I wish someone else had shared this process and playbook with me and my team. I would have been able to share my wisdom on a larger scale, with more people who could make more aware choices in life. And avoid the pain, frustration and even the self-doubt, of making it big on YouTube.

You don't have to go through all that, my friend.

Growth does not have to come with lack of results or stress or even self-doubts.

Today, I invite you to apply to HOW TO YOUTUBE, create your own YouTube growth blueprint, and make results an inevitable reality for your journey!
Oops - looks like you missed it!
The applications for Cohort - 1 of How to YouTube are now closed. Please share your email address with us for updates on upcoming cohorts.
Subscribe to our newsletter now!
Get weekly updates on live streams, news and more right in your mailbox.
Subscribe to our newsletter now!
Get weekly updates on live streams, news and more right in your mailbox.